There is no denying that the transmission is one of the most important components to ensure the efficient and unhindered operation of your vehicle. Such is the significance of the transmission that a malfunctioning or underperforming transmission can not only affect the performance of your vehicle, but is a threat to your safety as well.
Transmission problems are usually responsible for causing hard shifting, violent grinding noises, gears slipping, and various other serious interruptions to your driving. Needless to say, improper maintenance of your transmission can hinder the performance of your vehicle and affect the quality of your ride. It is imperative to ensure that your vehicle's transmission is running properly and smoothly. There is no better way of doing this than by entrusting your transmission to the professionals who have vast experience in handling all complications related to transmission repair and service: AAMCO Transmission Repair Shop of Bellaire/Houston.
Understanding Your Transmission
The transmission is a complex component of gears and sensors that play the pivotal role of the bridge between your engine and the wheels of your vehicle. The role of the transmission is important as it ensures that energy provided by the engine travels/transmits smoothly to the wheels/tires so that a safer and smoother control is provided to the driver.
Given that all of these complex processes generates a lot of heat, the role of transmission fluid becomes even more important. The transmission fluid makes sure that the transmission is prevented from getting too hot and from sustaining damage. However, what people don't realize is that this fluid (like any other fluid) becomes less efficient over time due to its use. This leaves your transmission more vulnerable to heat damage and other issues.
One of the best ways to prevent costly transmission repairs is to ensure that the transmission fluid is kept fresh and changed regularly. At AAMCO Transmission Repair Shop of Bellaire/Houston, we can remove the old fluid and completely flush your transmission system along with installing new, premium-quality fluid. It goes without saying that we oversee the whole process through our latest technology to make sure that everything is done flawlessly.
About AAMCO Transmission Repair Shop of Bellaire/Houston
At AAMCO Transmission Repair Shop, we pride ourselves on being one of the best full-service transmission specialists in Bellaire/Houston. We have highly experienced technicians that provide complete and comprehensive vehicle diagnostics and a full range of top-quality transmission repair and services. What makes our services so reliable is our team of technicians that have years of experience to provide you with expert maintenance and service.
As Houston transmission repair specialists, we provide transmission repair and services you can count on!
Unlike others, we pledge to all our customers that we will never remove a transmission from the vehicle for the sake of completing a repair unless it is absolutely necessary. As a trustable Houston transmission shop, it is always our utmost priority to diagnose transmission problems and provide prompt and courteous services to anyone with car/automotive transmission repair needs.
Our A+ Transmission Repair Services
We have gained a lot of trust from our esteemed customers due to our of step by step transmission repair and service process. Our expert technicians fully evaluate the vehicle before inspecting the external components of the transmission. This helps us in making sure that our valued customers don't have to pay for services that are not required. Hence, we start evaluating:
Cable or shift linkage
Detent cable/linkage
Ground connections
Vacuum connections
Harness connections
Axles and shafts
Engine mounts
Pan gasket
U-joints or CV joints
Wire condition
Fluid retention
Once our technician completes the evaluation, they will recommend the most suitable repair for your transmission needs. They will inspect external components of the transmission if initial evaluation isn't helpful in deducing the specific cause of the problem.
Here are the transmission services we provide to our valued customers:
Automatic Transmission Repair and Rebuilding
At AAMCO Transmission Repair Shop of Bellaire/Houston, we understand that your transmission problems need to be fixed in the most efficient and effective manner to avoid any future problems. That's why our expert technicians determine whether you need a rebuilt transmission or not. If you do need one, it can be said with assurance that the unit installed in your vehicle will serve you for many years to come.
For both transmission repair and rebuilding services, our expert technicians will either install or reinstall the unit and refill it with transmission fluid. After making the necessary adjustments, your vehicle will be tested by our specialists to ensure that all transmission problems are sorted out. Needless to say, we have the technology and expertise to rebuild or repair your transmission.
CVT Transmission Service
At our Houston transmission shop, we also specialize in Continuously Variable Transmission (CVT) service. If you are not familiar with CVT, there is no need to worry. CVT is a type of automatic transmission that is responsible for adjusting between the high gear and low gear while you drive. There are vehicles that have single speed transmission or CVT. So when you come to us, we look for some of the most common single speed transmission problems such as:
Low transmission fluid
Dirty or low transmission fluid
Valve body wear
Overheating transmission
Damaged bearing (s)
Incorrect coolant protection
Damaged push belt or pulley
Warning lights (turned on)
Constant whining sound
It goes without saying that our knowledgeable technicians understand the difference and requirements of your single speed transmission. So contact us if you need a dependable CVT transmission service.
Clutch Service and Repair
If you have any clutch issues, we can take care of them for you. Our initial vehicle check determines whether the clutch issue can be repair or replaced and then we come up with the best solution for it. Given that wear of the clutch can be related to the pressure plate, flywheel, and bearings, we look for anything that is causing a slight problem.
There are some common signs that indicate it is time for a clutch repair job. Some of them are slipping, mushy pedal, grinding or grating sounds or bad odor. After proper inspection of the clutch disc, flywheel, pressure plate, and other components, we will road test your vehicle to ensure it is smoothly running and the problem is fixed.
Automatic Transmission Fluid Service
At AAMCO Transmission Repair Shop, we believe in offering exceptional low-cost transmission fluid services. Our expert technicians perform all the necessary maintenance to make sure that your vehicle runs smoothly for many years to come.
Once you come to our Houston transmission repair shop, our expert technicians will remove the transmission pan to discard all the dirty fluid. After that, the latest technology will be used to determine whether there are any signs of contaminants or not. The next step is replacing the transmission filter. Pan gasket material and the transmission screen are cleaned. Finally, a leak check and detailed test drive are performed by one of our expert technicians. If you need any automatic transmission fluid service, contact us and we assure you that our transmission fluid and maintenance service will assist in enhancing the performance of your transmission.
Manual Transmission Repair and Rebuilding
At our Houston transmission service shop, your vehicle undergoes an initial vehicle check that helps us in determining whether your vehicle needs only fluid change service or manual transmission repair and rebuilding.
After all the possible causes are eliminated and the desired results are still not achieved, we consider rebuilding your transmission. Finding a replacement for a manual transmission is easier than it is with an automatic transmission. Even still, we will try our best to reduce your expenses and provide low-cost manual transmission repair and rebuilding service.
Transmission and Engine Mount Replacement
One of the most overlooked causes of engine noise and vibration are transmission and engine mounts. Given that a bad transmission mount can cause driveline noise when accelerating or starting out, there are chances that it may affect the gear shift linkage. No matter what the issues are, our expert technicians will complete the whole process of transmission and engine mount replacement and make your vehicle safe to drive again.
Axle and Drive Shaft Repair and Replacement
Axles and drive shafts, U-joints, and wheel hubs are responsible for the transfer of power from the engine and transmission to the wheels and tires. Even though these parts are strong enough and have a good lifespan, it is best to contact professionals if you hear whining, clunking or a squeaking noise.
In order to avoid any damage, it is recommended to contact AAMCO Transmission Repair Shop of Bellaire/Houston. Our expert technicians perform axle and driveshaft repair and replacement services in the most efficient manner. Contact us before it is too late and more damage is done.
Transfer Case Repair and Rebuilding
The transfer case is a very important part of the four-wheel-drive system. It is connected to the transmission and the front and rear axles, so it is imperative to check the transfer case every time the oil is checked.
If you hear strange noises while driving or when shifting gears, there are chances your transfer case needs servicing. However, there are other signs as well, such as grinding noise, difficulty in shifting gears, fluid leaks, and kicking out of gear. No matter how serious the problem is, our expert technicians can take care of all problems related to transfer case repair and rebuilding.
Common Transmission Problems
The transmission of your car is a complex mechanical system that experiences more wear and tear because it is responsible for controlling the application of power from the engine to the driveshaft. This explains why the heat and friction cause so much wear and tear.
Unfortunately, transmission repairs can often be quite expensive, so it is extremely important to pay close attention to common transmission problems to avoid more damage to your vehicle. At AAMCO Transmission Repair Shop of Bellaire/Houston, our technicians handle all transmission problems and come up with effective solutions to ensure that the transmission system of your vehicle serves you for a longer period of time.
Here are some of the most common transmission problems that are helpful in indicating that it is time for you to acquire our dependable services:
Shifting Delay or Lack of Response: If your vehicle creates problems while going into gear, this could mean that there is a problem that needs to be taken care of immediately.
Leaking or Low Fluid: If there is a leak, get it repaired as soon as possible. If the leak continues, the transmission could break down very soon.
Whining, Humming, and Clucking: It cannot be said exactly if your car is making strange noises due to transmission problems, but there are high chances that it might be one of the main reasons behind it. If you find your car making strange noises, do not make the mistake of waiting for the right time to get it fixed. Needless to say, just get it checked as soon as possible before it is too late.
Burning Smell: It is a cause for concern if any burning smell is coming out of your car. However, overheating transmission fluid can also cause a burning smell. This indicates that the fluid has served you enough and it is time to get it changed. Make sure you do not wait for too long because this can result in more friction and corrosive activity.
Shaking or Grinding: If your car is not running smoothly and there is continuous shaking and grinding, it can mean that there are problems with the gears. The shaking and grinding become more serious with a manual transmission. Waste no time in getting your vehicle checked.
Gears Slipping: This can be one of the more dangerous issues with your transmission. A transmission should stay in a designated gear and not slip in and out of the gear. If you are experiencing any of these symptoms, make sure to bring your car to our Houston transmission repair shop as soon as possible.
Are You in Need of Transmission Repair or Service? We Urge You to Bring Your Vehicle to Our Houston Transmission Shop for Guaranteed Results.
At AAMCO Transmission Repair Shop of Bellaire/Houston, we believe in offering A+ transmission repair services to our valued customers. We guarantee that your car will be properly evaluated and repaired at the lowest possible cost.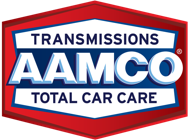 Locally owned and proudly operated by Beal Pumphrey
6 Reviews
AAMCO Transmission Repair Shop of Bellaire/Houston
OUR ADDRESS
5911 Chimney Rock, Houston, TX 77081
View Map
hours
Monday - Friday | 08:00 AM - 06:00 PM
Saturday | By Appointment
Sunday | Closed
SCHEDULE APPOINTMENT